Box Packing Guide
We send and collect all our parcels with Parcelforce Express 24. Their parcel restrictions are:
Maximum parcel weight: 30 kg
Maximum parcel length: 1.35 m
Maximum parcel girth + length: 2.8m
Maximum parcel volume: 5 cubic feet
This may sound complicated, but the main part is maximum parcel girth + length: 2.8m. All this means is that the combined length of the 5 sides illustrated on the diagram must not exceed 2.8 metres. For a cube-shaped box, this roughly equates to 0.5m x 0.5m x 0.5m.
If you have more items to send than will fit in such a box, just let us know and we'll be happy to arrange for multiple boxes to be collected.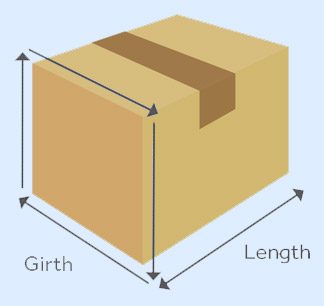 Packing Tips & Tricks
For individual items, or a small collection, use a jiffy bag. These are pre-padded, so you don't need to worry about your items getting bashed and damaged, and you won't need any additional packing materials. If you don't have a jiffy bag, let us know and we'll be happy to send you one!
DON'T send your items loose in an envelope, as these can rip easily and provide no protection for your item.
If you're sending your items in a box, be sure to pad out any empty space with cushioning material such as bubble wrap, newspaper or polystyrene chips.
Seal all gaps, openings or holes with tape.
You don't need to write an address on your parcel – our courier will print a label and attatch it to your parcel on arrival.
If you're struggling to pack your items, or have any questions, then don't worry! Give us a call for free on 0800 470 2313 or email us at hello@sellyourjewels.com and we'll be happy to talk you through the process.